Join in on #NationalForkliftSafetyDay 2018!
By Alex Batty, MHI Marketing Communications Coordinator |@mhi_alex
It's that time of year again! …No, not Halloween (but, like close in terms of awesomeness).
It's National Forklift Safety Day!
This year is the 5th annual event, which is always cool to get to an anniversary like that. (Wood is the traditional gift for the 5th anniversary, in case anyone was wondering.)
The event is sponsored every year by the Industrial Truck Association, and you can find all sorts of cool info at their website for the event. While there are official events in Washington, D.C to celebrate the day, you can participate wherever you are. Take the opportunity to get re-certified, brush up on OSHA standards, conduct refresher training courses, and more. (Mebbe make a wood forklift for that special someone?)
DC Velocity, which is the official media sponsor of the day, has created a special section about forklift safety that you should definitely check out for some great resources: http://www.dcvelocity.com/articles/20180604-national-forklift-safety-day-2018/
There are also several organizations or companies, including some of our member companies, that have events to celebrate National Forklift Safety Day. The easiest way to find out about them is to Google (the magic of the internet), but we've had some press releases come through that may have details on different celebrations: mhi.org/news
And, as always, there's a hashtag for everything: #NationalForkliftSafteyDay. GO FORTH AND TWEET!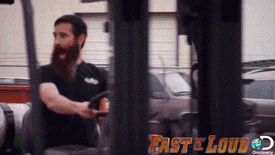 P.S. When you google gifs for forklifts, it shows many… disturbing things. Please, PLEASE, for the love of everything holy, do not do these things. Be safe.
National Forklift Safety Day logo from Industrial Truck Association